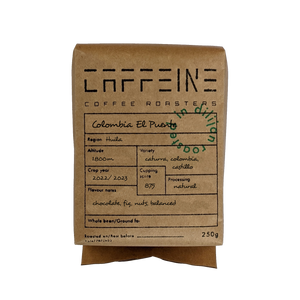 Species: arabica
Region: Huila
Altitude: 1800m
Crop year: 2022/ 2023
Variety: caturra, colombia, castillo 
Processing: natural
Cupping score: 87.5
Flavour notes: chocolate, fig, nuts, balanced



El Puente is the coffee processing facility located in Palestina, Huila Department of Colombia. Huila is located in the southern part of the country and occupies the Central and Eastern ranges of the Colombian Andes mountains. It's named after Colombia's national tree - Quindio wax palm tree.


Huila's coffee is collected from several producers and the farms are predominately smallholder owned. These producers over the past ten years have made concerted efforts to produce specialty coffee that reveals the full character of the region's terroir. Selective manual harvesting, attentive processing, and careful post-harvest sorting all contribute to increasing recognition of the region. Coffees from Huila have an earned reputation for quality and consistency.


The processing methods used by El Puente facility are Honey and Natural. Here they do not process coffees with Washed method due to the lack of wastewater management equipment. Eventually they use 80% less water then would be required for the Washed processing method.