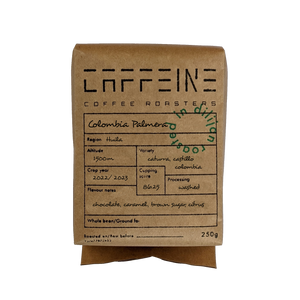 Species: arabica
Region: Huila
Altitude: 1500m
Crop year: 2022/ 2023
Variety: caturra, castillo, colombia
Processing: washed
Cupping score: 86.25
Flavour notes: chocolate, caramel, brown sugar, citrus



This coffee comes from Colombia's Huila Department which is located in the southern part of the country and occupies the Central and Eastern ranges of the Colombian Andes mountains. It's named after Colombia's national tree - Quindio wax palm tree.


Huila's coffee is collected from several producers and the farms are predominately smallholder owned. These producers over the past ten years have made concerted efforts to produce specialty coffee that reveals the full character of the region's terroir. Selective manual harvesting, attentive processing, and careful post-harvest sorting all contribute to increasing recognition of the region.


Coffees from Huila have an earned reputation for quality and consistency. The cup has a clean and sweet profile.