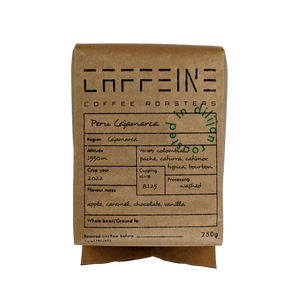 Species: arabica
Region: Cajamarca
Altitude: 1550m
Crop year: 2022
Variety: colombia, pache, caturra, catimor, typica, bourbon
Processing: washed
Cupping score: 81.25
Flavour notes: apple, caramel, chocolate, vanilla


This coffee is a production of Los Angeles Coffee Co-Op which was founded in November 2016. Now the number of producer-farms who contribute to the cooperative has grown to 120. All of them carry a Fair-Trade certification and some of them are also certified for Organic coffee production. Member farms are located at elevations ranging from 1200-1900m above sea level in the Cajamarca department of the country.

Cajamarca is a department and region in Peru with the capital city of Cajamarca. It is located in the north part of the country and shares a border with Ecuador. The region has fertile soil and mineral deposits which make agriculture, dairy farming, and mining principal economies of the region.

This is an Organic Coffee lot from Los Angeles Coffee Co-Op of washed processing.