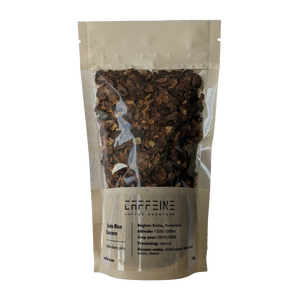 Region: Biolley, Puntarenas
Altitude: 1250-1300m
Crop year: 2019/2020
Processing: natural
Flavour notes: dried apple, dried apricot, raisin, cherry
Cascara is the dried coffee cherry skin.

As soon as the coffee beans arrive to the washing station the skins are being separated and prepared for drying. When drying is done correctly one can find notes of rosehip and dried fruits from the cascara brew.

This cascara comes from Coffea diversa garden owned by Gonzalo Hernandez, located in Southeastern Costa Rica. The crop here is fully hand harvested.

Cascara has become a very popular product in specialty coffee world. The skins also contain caffeine but in smaller amounts than the coffee beans.

Read our blog post to know more about cascara drink and to get some tips on how to brew it!

Bag size: 100g